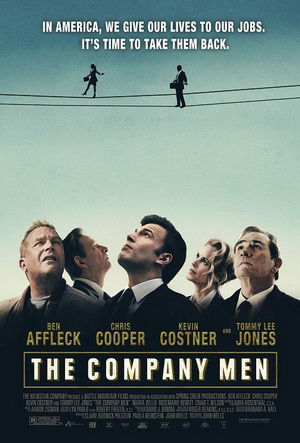 This week, we have a welcome deluge of quality available to own. It's one of the better weeks we've had in a while, with more than one critical darling out on DVD. Overall it's one of those "something for everyone" types of weeks, and I'm always a fan of those. For my
PICK OF THE WEEK
, I'm skirting the expected pick and going with a film that I was a big fan of when it came out. It's a flick that didn't get the support it deserved. It's:
The Company Men
A powerful and heartbreaking story of corporate downsizing and the lives it affects, I was very much won over by John Wells' theatrical debut. Featuring excellent work from Ben Affleck and strong supporting turns from the likes of Kevin Costner, Tommy Lee Jones, Chris Cooper, Rosemarie Dewitt, Craig T. Nelson, and Maria Bello. It's a well done drama that touches you in just the right way. It can be a tough watch for those feeling the sting of unemployment, but it's well worth watching. The Weinstein Company didn't get behind this movie like it should have, but now is your chance to catch up with it on DVD and see one of the more underrated films of 2010!
-The other real highly regarded release (and the one most will cite as their top pick this week) is the Coen Brothers' remake of
True Grit
. I think it might actually be an improvement over the original, and on its own it's still a very entertaining Western. I'm not huge on Ethan and Joel Coen on the whole, but this is one of my favorites of theirs. That being said, it didn't thrill me in a way that it did a lot of people (and the Academy too), so my admiration is a bit more limited than most. It's still well worth picking up, but I don't need to tell you all that...
-The rest of the releases this week include the Mike Leigh film
Another Year
(which I haven't seen but heard nothing but raves about), the supposedly excellent documentary
American: The Bill Hicks Story
(I haven't seen this one either, but like the comedian very much), the mediocre Adam Sandler comedy
Just Go With It
, the disappointing action film
Sanctum
, the gonzo horror flick
Rubber
(which I might be submitting a review of soon), and the direct to DVD James Franco movie
Shadows and Lies
. These films appeal to a wide range of folks and truly covers almost ever demographic. Decide which are for you and enjoy!
-My
Vintage
pick, in honor of this week's release of Super 8, is a collection of films that seem to form together to create the flick in question. They are
Alien
,
Close Encounters of the Third Kind
,
Cloverfield
, and
E.T.: The Extra-Terrestrial
. All are classics to me, so enjoy them and get ready for Friday's release!
-
What will you be watching on DVD this week
?